45th Scientific Advisory Committee Meeting Held at Hiroshima RERF–Department of Statistics Undergoes In-depth Review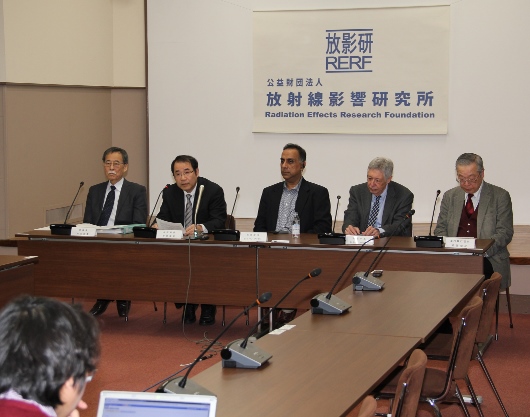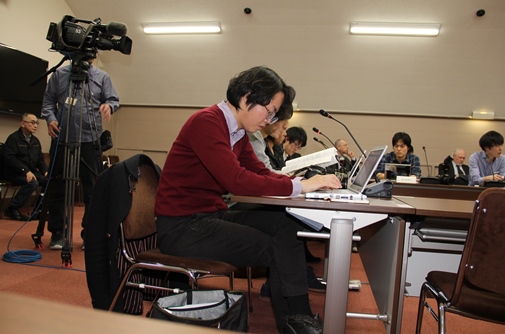 Media in attendance at press conference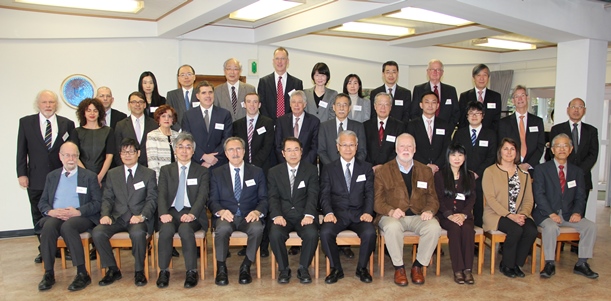 Participants of 45th Scientific Advisory Committee meeting (at Hijiyama Hall)
The 45th meeting of the Scientific Advisory Committee (SAC), an external body of scientific experts that advises RERF on its research direction, was held March 8-10, 2018, at the Hiroshima Laboratory of the Radiation Effects Research Foundation (RERF).
The SAC does not review all departments at RERF at one time, since an enormous volume of research results has been generated by RERF using long-term follow-up data from the A-bomb survivors. As a result, the department to be reviewed rotates each year. This year, the Department of Statistics underwent detailed review. For this purpose, along with eight of the 10 regular SAC members from the U.S. and Japan, three experts in the areas of genomics, preventive medicine, and biostatistics were invited to attend as Special Scientific Advisors.
Dr. Ohtsura Niwa, RERF Chairman, opened the meeting, on March 8, with his greetings. Dr. Robert L. Ullrich, Vice Chairman and Chief of Research, followed with an overview of RERF's responses to the SAC recommendations from the previous year, as well as highlights of RERF's research activities. He explained the importance of strategic planning, and within such plans, of RERF's continuation of "mission-based studies," defined as RERF's core research into the late health effects of radiation from the atomic bombings in the A-bomb survivors as well as dosimetry studies.
Dr. Ullrich mentioned how RERF initiated a major restructuring involving the formation of a structure of "research clusters" in 2016. This year, 2018, marks the beginning of full-scale implementation of the new cluster-based research system, with full funding of the new structure scheduled for fiscal 2019, according to Dr. Ullrich.
Presentations were also made regarding RERF's infrastructure, including the planned Research Resource Center and the importance of this center for implementation of collaborative research with other organizations and for RERF's future.
The Department of Epidemiology, which was reviewed last year, gave its responses to last year's SAC recommendations, followed by presentations regarding each of the three research clusters (comprised of cancer, non-cancer, and genetics clusters).
On March 9, the second day of the meeting, Dr. Harry M. Cullings, Chief, Department of Statistics, gave an overview presentation of that department. There were also more detailed talks about potential confounding in the LSS by urban vs. rural location of exposure, statistical analyses in RERF's long-term follow-up studies, the issue of causal models and mediation analysis in AHS studies with complex cohort-based sampling, and biologically based modeling of radiation carcinogenesis. Dr. Cullings closed out department presentations with an explanation about the RERF Organ Dosimetry Project and the need for a new dosimetry system for organ dose estimation due to aging of the DS86/DS02 systems. To close out the day, Dr. Niwa, Dr. Ullrich, and Dr. Kazunori Kodama, who is the recently appointed Executive Director, explained RERF's strategic plans for its overall operations in the future.
On the final day, March 10, the SAC deliberated on its recommendations for RERF. A press conference was held following the deliberations, gathering seven media organizations. To start the event, Dr. Michiaki Kai, Professor, Environmental Health Science, Department of Health Sciences, Oita University of Nursing and Health Sciences (SAC Co-chair), summarized the deliberations that had taken place during the three-day meeting. Dr. Nilanjan Chatterjee, Bloomberg Distinguished Professor, Department of Biostatistics, Bloomberg School of Public Health and Department of Oncology, School of Medicine, Johns Hopkins University, was on hand as the other SAC Co-chair.
At the press conference, key SAC recommendations were explained: That the research cluster system be advanced to provide high-level research and plentiful opportunities for collaboration among the three clusters; that strategic planning be carried out for effective use of RERF biosamples; that new staff with skills in areas such as genomics, bioinformatics, and computational biology be recruited preferentially; that informal avenues of communication be created between the SAC and young researchers to allow the scientists' opinions to be heard; and that RERF's research results be returned to society by broadening the impact of RERF research through collaboration in various radiation exposure scenarios both domestically and abroad, such as the nuclear power accident in Fukushima.
Below is a list of SAC meeting participants:
SCIENTIFIC ADVISORS
Dr. Nilanjan Chatterjee

Bloomberg Distinguished Professor, Department of Biostatistics, Bloomberg School of Public Health and Department of Oncology, School of Medicine, Johns Hopkins University (Co-chairperson)

Dr. Michiaki Kai

Professor, Environmental Health Science, Department of Health Sciences, Oita University of Nursing and Health Sciences (Co-chairperson)

Dr. Kazuo Sakai

Professor, Faculty of Nursing, Tokyo Healthcare University

Dr. Shunichi Yamashita

Executive Advisor to the President, Professor, Atomic Bomb Disease Institute, Nagasaki University

Dr. Yoichi Gondo

Professor, Department of Molecular Life Sciences, Tokai University School of Medicine, and Team Leader, Mutagenesis and Genomics Team, RIKEN BioResource Center

Dr. Chisato Nagata

Professor, Department of Epidemiology & Preventive Medicine, Gifu University Graduate School of Medicine

Dr. Anatoly Dritschilo

Professor and Chairman, Department of Radiation Medicine, Georgetown University School of Medicine

Dr. Francesca Dominici

Professor of Biostatistics, Department of Biostatistics, Senior Associate Dean for Research, Office of the Dean, Harvard School of Public Health (absent)

Dr. Jonine Bernstein

Attending Epidemiologist, Co-Program Leader Survivorship, Outcomes and Risk Program, Memorial Sloan Kettering Cancer Center (absent)

Dr. Curtis Harris

Chief, Laboratory of Human Carcinogenesis, and Head, Molecular Genetics and Carcinogenesis Section, Center for Cancer Research, National Cancer Institute, National Institute of Health
SPECIAL SCIENTIFIC ADVISORS
Dr. Julie Gastier-Foster

Senior Director, Institute for Genomic Medicine Clinical Laboratory, Vice Chair, Pathology and Laboratory Medicine, Nationwide Children's Hospital

Dr. Duncan Thomas

Professor of Preventive Medicine, Verna R. Richter Chair in Cancer Research, Keck School of Medicine, University of Southern California

Dr. Takashi Yanagawa

Professor, Biostatistics Center, Kurume University
AUDITORS
Mr. Takashi Kohno

Hiroshima General Law/Accounting Office (Hiroshima CPA Cooperative Office/Hiroshima General Tax Accountant Corporation)

Mr. Paul Thrasher

CPA, Financial Consultant
OBSERVERS
Mr. Tetsuhiro Minohara

Director, Office for Atomic Bomb Survivors, General Affairs Division, Health Service Bureau, Ministry of Health, Labour and Welfare

Dr. Eiji Ebina

Deputy Director, General Affairs Division, Health Service Bureau, Ministry of Health, Labour and Welfare

Dr. Isaf Al-Nabulsi

Senior Technical Advisor, Japan Program Manager, Office of Health and Safety, Office of Environment, Health, Safety and Security, U.S. Department of Energy

Mr. Ross Matzkin-Bridger

Energy Attache and Director, DOE Tokyo Office, U.S. Department of Energy

Dr. Gregory Symmes

Executive Director, Division on Earth and Life Studies, National Research Council, National Academy of Sciences

Dr. Charles Ferguson

Director, Nuclear and Radiation Studies Board, Division on Earth and Life Studies, National Research Council, National Academy of Sciences

Dr. Rania Kosti

Senior Program Officer, Nuclear and Radiation Studies Board, National Academies of Sciences, Engineering, and Medicine

Mr. James Ziglar

Senior Counsel, Van Ness Feldman, Washington DC, Senior Fellow and Director, Migration Policy Institute, Washington DC, Principal, The Ziglar Group, Washington DC and Singer Island, FL (RERF Board of Councilor)

Dr. Ryugo Hayano

Emeritus Professor, the University of Tokyo (RERF Board of Councilor)

Dr. Osamu Tanabe

Professor, Department of Integrative Genomics, Tohoku Medical Megabank, Tohoku University
RERF
Dr. Ohtsura Niwa

Chairman/Representative Director

Dr. Robert Ullrich

Vice Chairman and Chief of Research

Dr. Kazunori Kodama

Executive Director

Dr. Eric Grant

Associate Chief of Research

Mr. Douglas Solvie

Chief of Secretariat