home >
Councilor Jonathan M. Samet
Councilor Jonathan M. Samet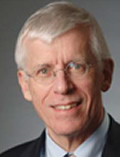 Present position
Dean, School of Public Health, University of Colorado
Education
1977

M.S., Harvard School of Public Health
1970

M.D., University of Rochester School of Medicine and Dentistry
1966

A.B. in Chemistry and Physics, Harvard College
Professional appointments
University of Southern California

2008–2017

Professor and Flora L. Thornton Chair, Department of Preventive Medicine, Keck School of Medicine Director, USC Institute for Global Health
Johns Hopkins University

2008–2012

Adjunct Professor, Department of Epidemiology, Bloomberg School of Public Health

1994–2008

Professor and Chairman, Department of Epidemiology, Bloomberg School of Public Health

1994–2008

Director, Institute for Global Tobacco Control, Bloomberg School of Public Health
University of New Mexico

1986–1994

Chief, Pulmonary and Critical Care Division, Department of Medicine,

1978–1994

Assistant Professor to Professor of Medicine
Awards
2008

The Alton Ochsner Award Relating Smoking and Health
2006

Distinguished Alumnus Award, University of Rochester School of Medicine and Dentistry
2005

Prince Mahidol Award in Public Health, Prince Mahidol Award Foundation
2005

John Goldsmith Award for Outstanding Contributions to Environmental Epidemiology, International Society for Environmental Epidemiology
2001

Alumni Award of Merit, Harvard School of Public Health
1997

Institute of Medicine, National Academy of Sciences
1996

Fellow, American Association for the Advancement of Science
International collaborations
2011

Chair, Working Group on Non-Ionizing Radiation: Radiofrequency Electromagnetic Fields, International Agency for Research on Cancer (IARC)
2010

Member, Scientific Advisory Committee of CanCOLD, McGill University, Canada
2009–

Chair, Centre Advisory Board, MRC-HPA Centre for Environment and Health, London, England
2006–

Chair, Scientific Advisory Committee, Centre for Research in Environmental Epidemiology (CREAL) Barcelona, Spain
1995

Peking Union Medical Center and China Center for Disease Control
Professional societies
2000-2001

President, American College of Epidemiology, Fellow
1989-1990

President, Society for Epidemiologic Research
1983-1984

Chairman, Environmental and Occupational Health Assembly Annual Meeting Committee, American Thoracic Society
Selected publications
1.

Samet JM, Avila-Tang E, Boffetta P, Hannan LM, Olivo-Marston S, Thun MJ, Rudin CM. Lung cancer in never smokers: clinical epidemiology and environmental risk factors. Clin Cancer Res. 2009; 15(18):5626-45.
2.

de González AB, Kim K, Samet JM. Radiation-induced cancer risk from annual computed tomography for patients with cystic fibrosis. Am J Respir Crit Care Med 2007; 176:970-973.
3.

Brenner DJ, Doll R, Goodhead DT, Hall EJ, Land CE, Little JB, Lubin JH, Preston DL, Preston RJ, Puskin JS, Ron E, Sachs RK, Samet JM, Setlow RB, Zaider M. Cancer risks attributable to low doses of ionizing radiation: assessing what we really know. Proc Natl Acad Sci USA 2003; 100:13761-13766.
4.

Samet JM, Eradze GR. Radon and lung cancer risk: taking stock at the millennium. Environ Health Perspect 2000; 108:635-641.
5.

Lubin JH, Boice JD Jr, Edling C, Samet JM, et al. Lung cancer in radon-exposed miners and estimation of risk from indoor exposure. J Natl Cancer Inst 1995; 87:817-826.
6.

Darby SC, Whitley E, Howe GR, Hutchings SJ, Kusiak RA, Lubin JH, Morrison HI, Tirmarche M, Tomášek L, Radford EP, Roscoe RJ, Samet JM, Yao SX. Radon and cancers other than lung cancer in underground miners: a collaborative analysis of 11 studies. J Natl Cancer Inst 1995; 87:378-384.
7.

Samet JM. Indoor radon and lung cancer: estimating the risks. West J Med 1992; 156:25-29.
8.

Samet JM, Pathak DR, Morgan MV, Key CR, Valdivia AA. Lung cancer mortality and exposure to radon progeny in a cohort of New Mexico underground uranium miners. Health Phys 1991; 61:745-752.