home >
Councilor Keith R. Yamamoto
Councilor Keith R. Yamamoto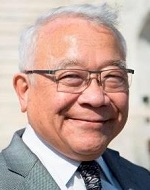 Present Position
Professor, Vice Chancellor for Science Policy and Strategy, Director UCSF Precision Medicine
Professional Preparation
1968

BSc, Biochemistry/Biophysics, Iowa State University, Ames, IA
1973

Ph.D., Biochemical Sciences, Princeton University, New Jersey
1973-1975

Molecular Biology (Postdoc), University of California, San Francisco
Appointments
2015 –

Vice Chancellor for Science Policy and Strategy, UCSF
2015 –

Director, UCSF Precision Medicine
2011-2015

Vice Chancellor for Research, UCSF
2004-2015

Executive Vice Dean, School of Medicine
2002-2003

Vice Dean for Research, School of Medicine
1994 –

Professor, Department of Cellular and Molecular Pharmacology
1994-2003

Chairman, Department of Cellular and Molecular Pharmacology
1988-2001

Director, Biochemistry and Molecular Biology, Program in Biological Sciences
1985-1994

Vice Chairman, Department of Biochemistry and Biophysics
1983-2003

Professor of Biochemistry, Department of Biochemistry and Biophysics
1979-1983

Associate Professor of Biochemistry, Department of Biochemistry and Biophysics
1976-1979

Assistant Professor of Biochemistry, Department of Biochemistry and Biophysics
Research
I am an international leader in the investigation of transcriptional regulation by nuclear receptors, which mediate the actions of essential hormones and cellular signals; I use mechanistic and systems approaches to pursue these problems in pure molecules, cells and whole organisms.
Science Education Activities (selected from many)
More than 30 graduate students and 60 postdoctoral fellows have trained in my lab; most have remained in academic research and administration, some are in pharma and biotech research and administration, and some are using their scientific training in a range of careers in education, business, communication, law and policy. I am proud that several lab alums are in leadership positions in their fields.
1.

UCSF: Biochemistry and Molecular Biology (BMB) Graduate Program. Helped to develop curriculum; conceived and helped teach core graduate foundation Biological Regulatory Mechanism annually; served as Director of BMB Program and PI for its NIH Training Grant
2.

UCSF: Graduate Student Internship for Career Exploration (GSICE) Program. Conceived, launched, secured funding, overseeing direction of post-candidacy internship program in which grad students spend 10 weeks offsite, participating in business, law, communications, policy and other activities that represent potential ways to use their life sciences PhD training
3.

NIH: Conceived and developed implementation for NIH Transformative R-01 grant mechanism and chaired first two rounds of review. Chair, NIH Director's working group on Enhancing Peer Review; Member, NIH Director's Working Group on the Biomedical Workforce
4.

National Academy of Sciences/American Academy of Arts & Sciences: Member or chair of two report committees, "Bridges to Independence" and "Alternative Funding Mechanisms" resulting in K99/R00 postdoc/assistant professor transition grant
5.

Cold Spring Harbor Laboratory. Watson School of Biological Sciences. Helped to conceive, launch, achieve accreditation, plan curriculum for novel, rigorous four year graduate program; chair, external advisory committee since founding in 1998.
Science Policy Activities (selected from many)
I have led or served on many federal, national and state committees focused on public and scientific policy, review and funding of science, science publication and communication, public understanding and support of biological research, science impact on society.
1.

National Academies of Sciences, Engineering and Medicine: Governing Board Executive Committee, Vice Chair NAM Council, Chair Board on Life Sciences, many consensus report committees, e.g., "New Biology for the 21st Century", "Toward Precision Medicine".
2.

Coalition for the Life Sciences: Member and chair of alliance of professional organizations working together to foster federal government policies that advance basic biological research and its applications.
3.

NIH: Advisory Committee to the Director, member and chair Center for Scientific Review Advisory Committee, Chair Working Group on Enhancing Peer Review, Director's Task Force on the Biomedical Workforce, chair Molecular Biology Study Section.
4.

Research!America Board of Directors and Executive Committee; largest not-for-profit public education and advocacy alliance to make research to improve health a higher national priority.
5.

Public Library of Science (PLOS) Board of Directors; open access science publisher.
Publications (selected from 234 scientific papers from my lab, and 38 science policy papers)
Five highly significant publications:
1.

Chandler, V.L., Maler, B.A., and Yamamoto, K.R. (1983) DNA sequences bound specifically by glucocorticoid receptor in vitro render a heterologous promoter hormone responsive in vivo. Cell 33(2), 489-499. PMID: 6190571
2.

Diamond, M., Miner, J.N., Yoshinaga, S.K., and Yamamoto, K.R. (1990) Transcription factor interactions: selectors of positive or negative regulation from a single DNA element. Science 249, 1266-1272.
3.

Rogatsky, I., Wang, J-C., Derynck, M.K., Nonaka, D., Khodabakhsh, D.B., Haqq, C.M., Darimont, B.D., Garabedian, M.J., and Yamamoto, K.R. (2003) Target-specific utilization of transcriptional regulatory surfaces by the glucocorticoid receptor. Proc. Natl. Acad. Sci. USA 100(24), 13845-13850. PMID: 14617768
4.

Watson, L.C., Kuchenbecker, K.M., Schiller, B.J., Gross, J.D., Pufall, M.A. and Yamamoto, K.R. (2013) The glucocorticoid receptor dimer interface allosterically transmits sequence-specific DNA signals. Nature Struc Mol Biol. 20 (7): 876-83. PMID: 23728292
5.

Weikum ER, Knuesel MT, Ortlund EA, Yamamoto KR. (2017) Glucocorticoid receptor control of transcription: precision and plasticity via allostery. Nat Rev Mol Cell Biol. 18(3): 159-174. PMID: 28053348.
(selected from among 38 + 8 Congressional testimonies)
1.

Piller, C., and Yamamoto, K.R. (1988) "Gene Wars: Military Control Over the New Genetic Technologies," Beech Tree/William Morrow, New York. Hawgood S, Hook-Barnard IG, O'Brien
2.

Alberts, B.M., Ayala, F.J., Botstein, D., Frank, E., Holmes, E.W., Lee, R.D., Macagno, E.R., Marrack, P., Oparil, S., Orkin, S.H., Rubenstein, A.H., Slayman, C.W., Sparling, P.F., Squire, L.R., von Hippel, P.H. and Yamamoto, K.R. (1999) Proposed changes for NIH's Center for Scientific Review. Science 285, 666-667.
3.

Hawgood, S, O'Brien, TC , Yamamoto KR. (2015) Precision medicine: Beyond the inflection point. Sci Transl Med. Aug 12; 7(300):300ps17.
4.

Yamamoto KR. (2016) The University of the Future, essay contribution to The Power of Ideas http://assets1b.milkeninstitute.org/assets/PillarPage/POI/2016P4C/12YamamotoSingle-Page.pdf
5.

Yamamoto KR, Bassler BL, Cech T, Charo RA, Fishman M, Horvitz HR, Hyman S, Landis S, Marrack P, Tilghman S, Varmas HE, Zerhouni E (2016) A Vision and Pathway for NIH – Recommendations for the New Administration, http://www.nihvp.org/