Behind-the-scenes Interview with Chief of Research's Administrative Assistant
RERF E-news will focus on support staff working behind the scenes in support of RERF's research activities. This inaugural issue's focus is Ms. Tomoe Sugiyama, who works in the office of RERF's director of research.
Specifically, Ms. Sugiyama works as administrative assistant for Dr. Robert L. Ullrich, RERF Vice Chairman and Chief of Research. One year has passed since her appointment. In this interview, we talked in depth about her true feelings regarding her job, the hardships she may have experienced there, and other miscellaneous topics.

Ms. Tomoe Sugiyama, administrative assistant, office of the Chief of Research
What kind of work do you do as administrative assistant for the Chief of Research?
My work entails schedule management, meeting preparations, and anything else related to Dr. Ullrich's work as Chief of Research.
When do preparations of the Scientific Advisory Committee (SAC) begin? What was the most difficult of them?
It was about June last year when the schedule was decided, and it seems as if everything started from there. Preparations began in earnest around December. The hard part was that I was working for the first time in this job with no prior experience, so it seemed as if I was always handling things on a trial-and-error basis.

Unlike in the past, this year's SAC meeting was held over a weekend. Were there any difficulties because of this scheduling? Didn't your family complain about your having to work on the weekend?
A researcher with a small child did say, "I'm having trouble finding a place to leave my child on the weekend." But the weekend meeting this year was the result of Advisors' scheduling difficulties. Those were the only dates that the Advisors could agree on. As for myself, I heard no complaints from my family, because my children are already grown. You can't get a ticket for the Hiroshima Carp baseball games now, anyway, so attending a game on the weekend would be impossible (Note).
What's interesting about this job? Is it worthwhile for you?
The work of an administrative assistant is not really visible, so we have to work as go-betweens in the background to make sure things run smoothly. To that end, many difficult issues arise, but precisely because I once struggled, I feel the work is worthwhile when things turn out well. Also, I was really glad that the members of this year's SAC were all wonderful human beings; they sent many "thank you" emails and the like after the meeting concluded, expressing their gratitude.
Lastly, RERF has many opportunities to work with overseas staff as a joint US-Japan organization. But when working with Dr. Ullrich, an American, what problems have arisen due to Japanese and American cultural differences?
In fact, there is no such thing as "problem" in this instance. Sorry for not having an interesting answer for you (laughs). If I had to say something, I would say that because Dr. Ullrich is not Japanese, it means I can't use Japanese as I would like, and I need to translate into English email messages that arrive only in Japanese from other departments. Having said that, though, Dr. Ullrich is studying Japanese hard and trying to understand me, so that helps me a lot. I also feel he is working hard to understand Japanese culture.
Thank you, Ms. Sugiyama. We wish you continued success in the future.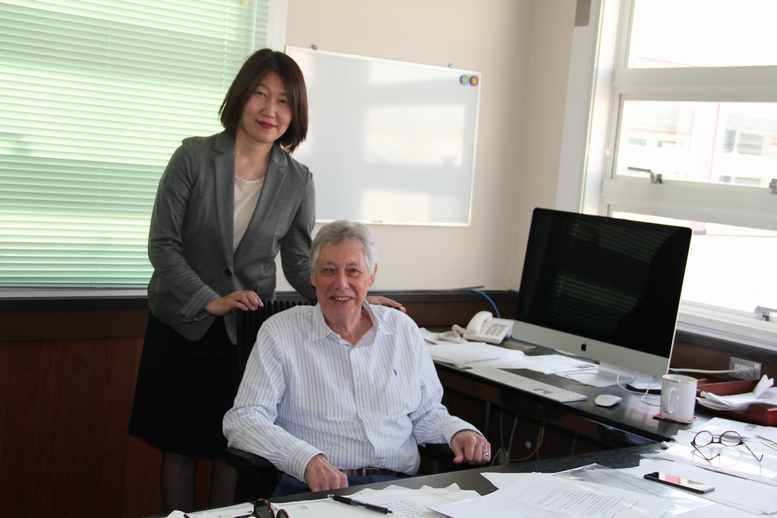 Commemorative photo with Dr. Ullrich
An RERF staff member told me a story about when he lent an umbrella to Ms. Sugiyama on a rainy day. The old umbrella had some holes, but when it was returned, the staffer noticed with surprise that the holes had been sewn up. When we confirmed this story with her, she replied with a smile, "Oh, the holes. Yeah, I patched them up." Another example of her kindness was when she apparently saw a button missing from visitor's coat and replaced it on the spot. With all this, added to her superlative organizational and English skills, Dr. Ullrich no doubt considers himself lucky to work alongside Ms. Sugiyama.
(Note)Since the Hiroshima Toyo Carp won its first pennant in 25 years in 2016, the competition for tickets here at RERF for the home games (at the MAZDA Zoom-Zoom Stadium Hiroshima) is intense each year. This spring, following the team's capturing its third consecutive pennant last season, about 50,000 fans rushed to the stadium on lottery ticket distribution day. About 40,000 received lottery tickets, but only 2,100 of that number won tickets. Here, Ms. Sugiyama is lamenting this ticket shortage.