home >
Adult Health Study, Health Effects Study of the Children of A-bomb Survivors
Adult Health Study, Health Effects Study of the Children of A-bomb Survivors
We invite A-bomb survivors and their children to come to RERF for health examinations so that we can investigate the health effects of radiation. The RERF Department of Clinical Studies performs most such examinations. These individuals are informed of the examination results and referred to specialty hospitals when necessary.
The examinations include measurement or testing of:
・Height and weight
・Blood pressure
・Urinalysis
・Stool occult blood reaction
Hematology test
Red blood cell count, white blood cell count, blood platelet count, hematocrit level, hemoglobin level, differential white blood cell count
Biochemistry test
Liver function, kidney function, lipid (total cholesterol, triglyceride, HDL cholesterol, LDL cholesterol), uric acid electrolyte (sodium, potassium, chlorine, calcium, phosphorus)
Hepatitis virus test
HBs antigen and antibody, HCV antibody (when positive, HCV-RNA quantity)
Glucose metabolism test
Blood glucose level, hemoglobin A1c level (when diabetes is suspected, glucose tolerance test)
Anti-GAD antibody, etc.
Test for inflammation
High-sensitivity C-reactive protein, blood sedimentation, rheumatoid factor
Prostate tumor marker test
Prostate-specific antigen (PSA) (for males aged 50 or older)
Chest X ray
Electrocardiography (ECG)
Abdominal ultrasonography
Thyroid and carotid ultrasonography
Breast examination (palpation, breast ultrasonography when necessary)
Gynecological examination (for whose who so wish)
Body fat measurement
Sputum cytology (for heavy smokers and those who so wish)
Osteoporosis test
Individuals are fully informed of the details of the examinations and give consent before undergoing the examinations.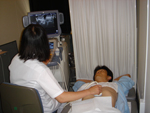 Ultrasonography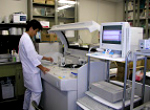 Hematology and biochemistry tests
Physical examination by physician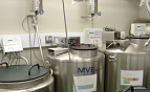 Such biological samples as blood are cryopreserved for future research.
In addition to the above health examinations,we provide the following services:
Health counseling
Physicians, public nurses, and nurses offer health counseling.
Medical care counseling
Social workers provide advice to inquiries about medical or welfare institutions.